The Jennifer Morris technique or the applique technique is a classic technique used on polymer clay. This among other techniques such as Mokume Gane or filigree are basic techniques that artists use to create various effects. The technique can vary depending on your skill, some may use rounder, irregular and easier to make shapes, other will use patterns or elongated shapes for their applied. Some of the well-known artists that use this technique are Jennifer Morris and Eva Thissen, both with a very different. While Jennifer Morris goes for the crowded and richer design, Eva Thissen has a more contemporary, more minimalistic design. Both of them manage to create beautiful accessories with a great unique touch to any outfit.
A lot of artists have since then started using the applique technique, especially in creating flowers. It's a pretty easy technique and doesn't require much skill if done in a more rudimentary way, only tremendous amount of patience. But some applique techniques such as Eva Thissen's may prove to be more challenging as they require a steady hand and very precise elements.
I have used this technique in the following designs and I will incorporate in some of my pendants. Soon I will even post a tutorial followed by a little autumn giveaway since I missed the August giveaway I promised.
Tehnica Jennifer Morris sau tehnica applique e o tehnica classica folosita cu lutul polimeric. Aceasta impreuna cu alte tehnici ca Mokume Gane sau filigree sunt de baza si sunt folosite de artisti pentru a crea diferite efecte. Tehnica poate varia in functie de nivel, unii pot folosi forme mai rotunde, neregulate si usor de aplicat iar altii vor folosi elemente mai lungi sau anumite modele. Unii dintre cei mai cunoscuti artisti care folosesc aceasta tehnica sunt Jennifer Morris si Eva Thissen, amandoua foarte diferite ca rezultat final. In timp ce Jennifer Morris alege un design mai plin si mai inghesuit, Eva Thissen vine cu un design mai minimalist si mai contemporan. Totusi, ambele reusesc sa creeze accesorii frumoase care dau unicitate oricarei tinute.
Multi artisti au incercat sa foloseasca aceasta tehnica, in special in crearea florilor. Este o tehnica destul de usoara, nu necesita un mare nivel de cunostiinte sau indemanare daca este facuta intr-un mod mai rudimentar, insa de fiecare data necesita o groaza de rabdare. Desigur, unele tehnici applique ca cele ale Evei de exemplu pot fi extrem de dificile deoarece necesita o mana sigura si elemente extrem de precise.
Am folosit aceasta tehnica in urmatoarele design-uri si o voi folosi mai des in pandantivele mele. In curand voi posta si un tutorial urmat de un mic giveaway de toamna, din moment ce am pierdut giveaway-ul din August mult promis.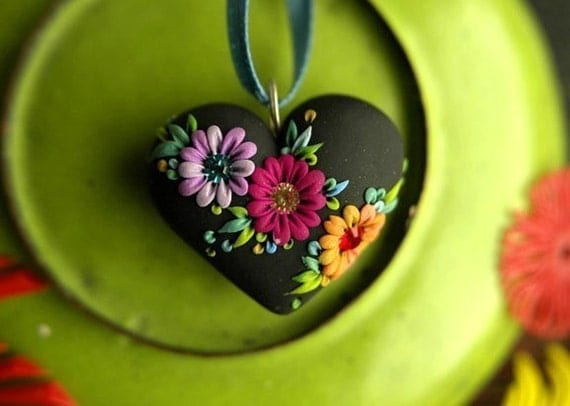 Jennifer Morris via Etsy.com
Later Edit: I forgot to add my own work/
uitasem sa adaug pandantivele mele